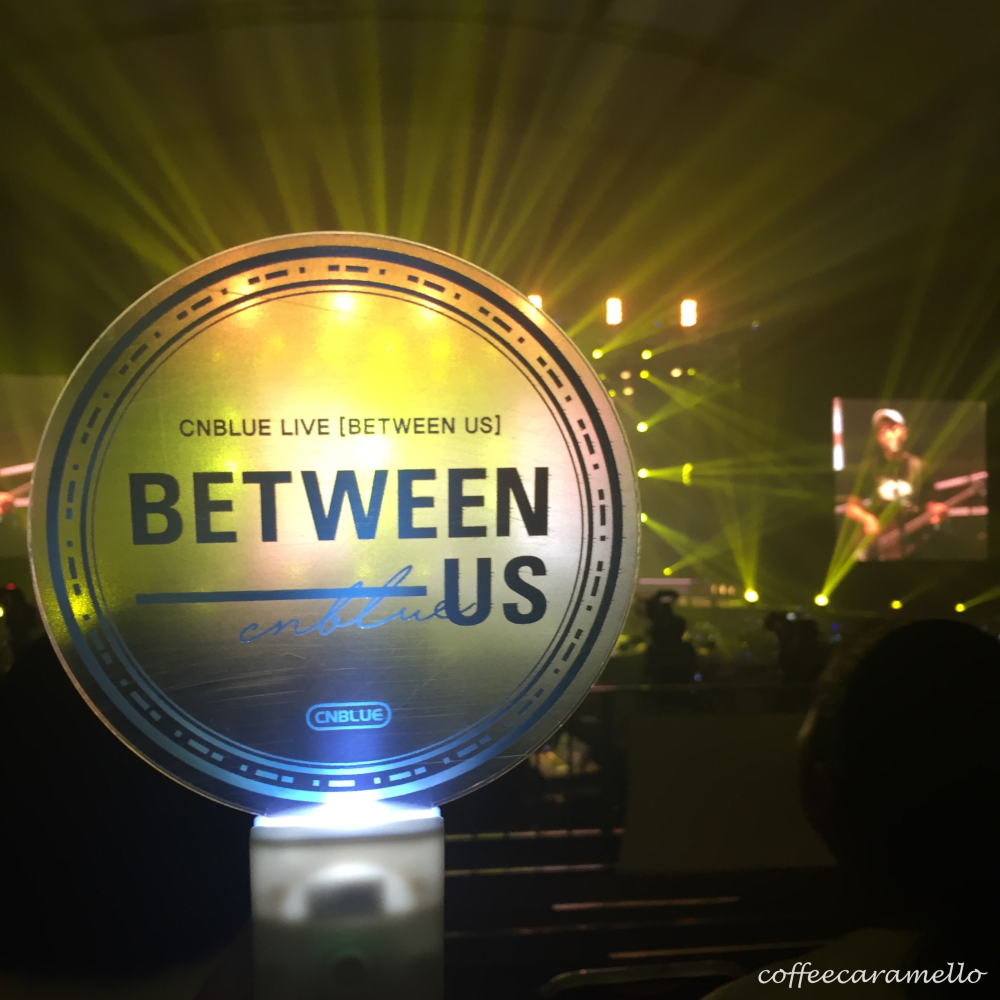 After 4 years, CNBLUE is back to our home country, Indonesia. I am so happy that I can finally experience watching CNBLUE, my ultimate favorite band, here in Jakarta. The concert was held in ICE BSD, on July 15th, 2017. I should've written about this long ago but … lazy-busy mode 😀
I actually have declared that I would stop watching concert, not because I don't stan them anymore but because I need to reduce my fangirling expenses lol. But hey, they are coming to Jakarta, I should come. So I decided to purchase the seating section (Silver). It's IDR 1.500.000. There are three sections, VIP IDR 2.800.000, Gold IDR 2.200.000 and Silver. Then I just have to accept the fact that this time I have to watch them far compare to my previous concerts. But I hope this time is not my last chance to see them live. Because once you watch you can't stop, especially CNBLUE in music show on TV is different than when you watch their concert. They can play live music instrument and stage acts are awesome.
Well, since I purchase seating section and we don't get the seat number yet, so to redeem our ticket and to get seat number, we need to queue early in the morning lol cos the promoter stated that we will get the seat number based on first come first serve. Aigoo.
Still, with all the efforts, I am grateful that finally I get good seat. Not that far tho and really enjoy with my friends. We sing along and even dance. As always Yonghwa as the leader really knows how to engaged fans. CNBLUE always have concerts with no translator so they will speak English and our language. 'Apakah kalian kangen kami?' 'Kami kangen kalian' kind of those fanservices that we love. They know how to melt our heart with their acts. And Yonghwa's English is also impressive. Pronunciation is on point too.
Before they perform You're So Fine, Yonghwa says: Our next song is to all our cantik cantik Indonesian BOICE.' Aww… Everyone is screaming. Haha. Yonghwa really cant stop moving. He sings, dances, teases us. His voice is still stable even after jumping, dancing and everything he does on stage. No wonder every BOICE knows he is energizer bunny. And don't forget that he is also dancing king. He asks Jungshin and Jonghyun to dance with him. Oh yea, he also shows off his throw-mic skill in the song Between Us :))
Lee Jonghyun, he doesn't move a lot but what I see that he enjoys the performance. Fans can have many good photos of him cos he's not moving a lot. Hehe. Fans also teases him, calling his name Lee… Jong… Hyun… and his I-don't-know-why face makes us laugh and happy. Jonghyun's charm.
Kang Minhyuk. Since he's on drums, we rarely see him front stage and do stage act. But there is memorable moment for me in the concert when he goes front and seat with brothers for the acoustic session, Minhyuk sings Manito. He gets super loud scream from fans that time. Check out the video.
Lee Jungshin. Yeaaaah, he's super cool and super tall. I can say that Jungshin can be Yonghwa's replacement on the talk session. When Yonghwa drinks and takes rest, Jungshin can talk a lot and greet fans. With his English and Indonesian of course. Really appreciate that. CNBLUE knows how to handle their own show and get close to the audience.
All I can say is I am so happy. I can see them live, in our home country, had a great time watching such an amazing show. Project from BOICE Indonesia is also a success that we hold the CNBLUE forever banner when they perform Young Forever and CNBLUE use the banner to take picture after the concert ends. I am also proudly say that me and my friends, Amel and Amel (two Amel…) had a small project too: giving away free merchandises like pouches, fans, cookies, key chains just to make memories with boice while waiting for the concert. Hope Boices who come to the concert and get our goodies will like them. I also would like to say thank to the donors and supporters of the project 🙂
Last but of course not least, thank you CNBLUE for the amazing show. Yonghwa also says wow few times when Indonesian BOICE sing along to Manito… Crowd also super super awesome. We make memories. Queuing early in the morning and waiting for almost 4 years for them to come to our home country are worth it. See u again… (finger crossed)
Here's some memorable moments from the concert. Vids taken far far away.
Seriously, Yonghwa's as the singer can lead the brothers well. He sings Oh My Jakarta with the song Cant Stop. Yonghwa is really really awesome.
'Our next song is to all our Cantik Cantik Indonesian Boice… I'll sing for you" Again yonghwa being so gombal kekeke. This is before they sing You're So Fine. Ok thanks Yonghwa, thanks!
Hahaha this is so cute when Yonghwa sings Sweet Holiday. 'Oh Pretty Girl…'