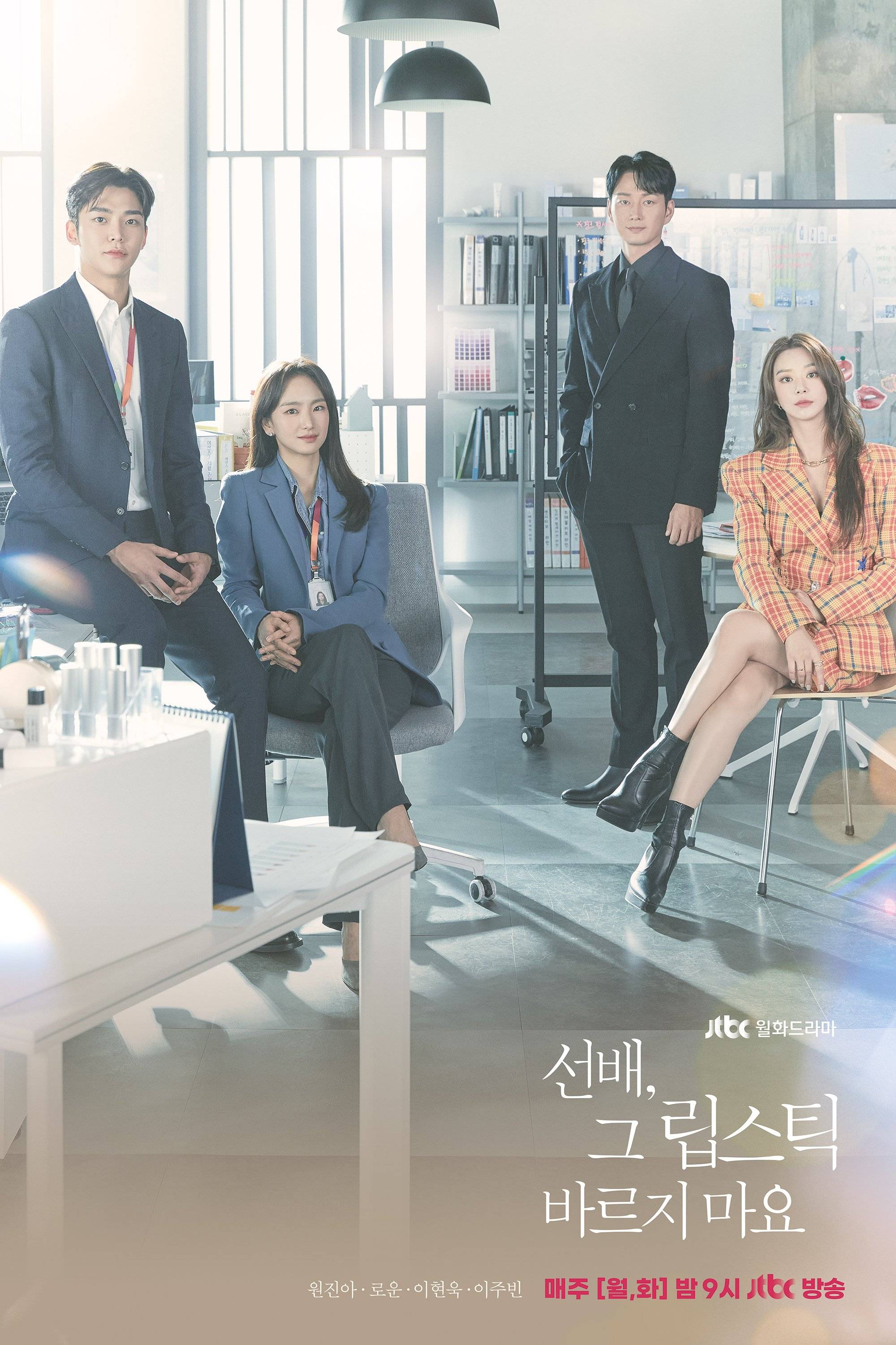 She Would Never Know is a love story about a young good looking man who's in love with his senior based on a novel "Sunbae, Geu Lipstick Bareujimayo" by Elise (asianwiki). I think it's a pure romance with the background cosmetic company. Chae Hyun Seung (Rowoon) is a marketer in KLAR cosmetics. He likes his senior (Sunbae), Yoon Song A (Won Jin A), who tutors him well and has promising career in the company. But while chasing his love, Hyun Seung finds out that Sunbae's secretly dating their boss.
And the love story begins. Hyung Seung still likes his Sunbae even though he knows Song A's dating their leader, Lee Jae Shin (Lee Hyun Wook). Lee Jae Shin has sad past that makes him act differently. While dating Song A, he's also having relationship with his bestfriend's sister Lee Hyo Joo (Lee Joo Bin) who's really into him. He has his reason tho it's not acceptable. He's even in the preparation of wedding with Hyo Joo. Song A feels so disappointed and very upsets when she knows it. Hyun Seung tells her, for her own sake.
Hyun Seung who knows about the 'two-timing' before is always there for Song A to comfort her. But it doesn't that smooth. Even tho Song A's broken hearted, she still can't accept Hyun Seung's feelings cos she still cant move on and won't date younger partner. But knowing Hyun Seung character, he won't give up. Hyun Seung is too sweet and caring how to ignore his feelings.
I think the writer wants to strengthen this character of Hyun Seung. He firms with his feeling and he won't easily give up for it's revealed that he already falls in love with Song A since in the university. That time, I forgot but I think Song A comes to promote KLAR to the campus and that's the time he falls for Song A's smart and pretty characters.
Beside the leads love story, we're also broughts to attach to Hyun Seung sisters'. First sister is the bridal designer, Chae Ji Seung (Wang Bit Na) who eventually dates Hyung Seung big boss (Lee Gyu Han). Her love story is pretty cute and sweet. And second sister, Chae Yeon Seung (Ha Yoon Kyung) who has seemingly nice family with one pretty cute smart daughter. I cried a lot about the story of the second sister. Yeon Seung who usually focuses on her family, find out her husband's secret. Her family story makes me broken hearted but fortunately she finally finds her happiness and what she likes to do. I like her strong characters.
The hightlight of this drama is of course Hyun Seung and Song A love story. It's not an easy love story but *spoilers* they finally find their happiness, after ups and downs. Somehow there's the moment when I don't like Song A, when she decides to give up the relationship because she's not confident, too focus on her works plus it's a long distance relationship, while Hyun Seung's fine with it. And this is probably why this love story is relatable.
But at the end, it's love make them together again and Song A realizes Hyun Seung is the one who can comfort her and be there for her always. It's cute at the finales, it's Song A who seduces Hyun Seung to win his heart back… I feel like Hyun Seung's stuggles to get his Sunbae's heart is finally worth it.
Just want to add, I watch some of Won Jin A's dramas and I always like how she portrays her characters, and Rowoon has his charms in this drama too. He can make me feel his love towards Song A. His gesture and facial expressions are so into the character. My second impression after 'Extraordinary You' and Rowoon nailed it again.
Pictures: hancinema