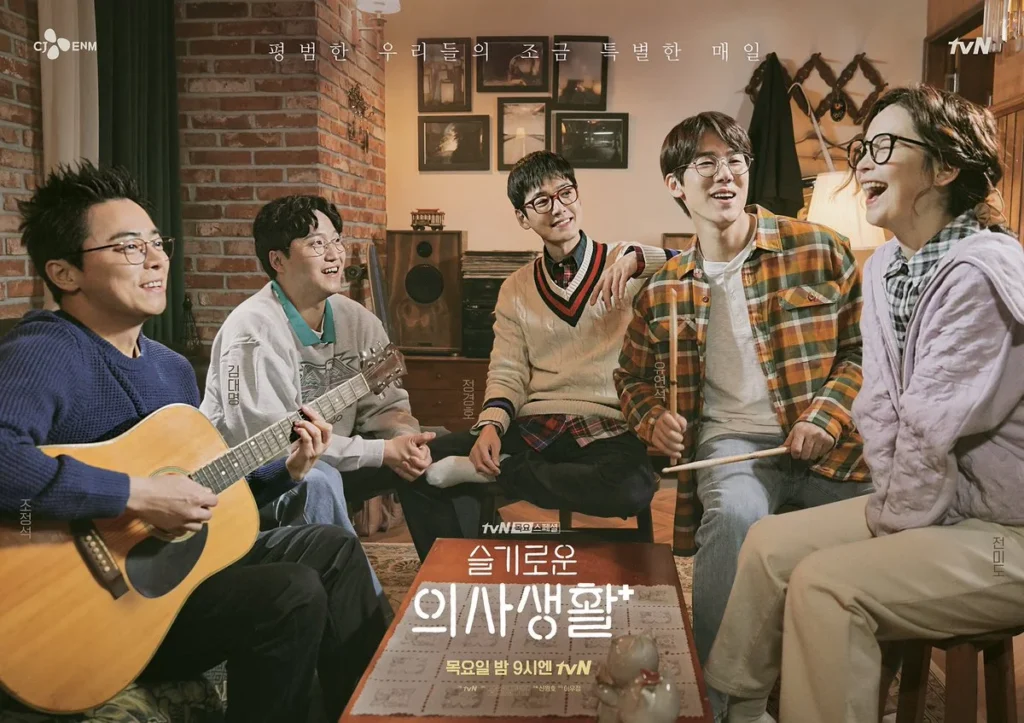 'It's a must watch!' That's my reaction the first time I heard about this drama. Not just because of the line-up are good actors, but because of the director & the writer. Director Shin Won Ho is known with his successful Reply series (1997, 1994, 1988) and the latest one I really like is Wise Prison Life/Prison Playbook. Writernim is Lee Woo Joong known with the Reply Series. I'm impressed with the duo that they can make a slice of life drama is so touching and comforting since Reply 1997.
Starring well-known actors: Jo Jung Suk, Jung Kyung Ho, Yoo Yeon Seok, Kim Dae Myung and a beautiful musical actress Jeon Mi Do. No doubt about their acting. The story is about five of them who are best friends since university and are successful doctors in their own fields. As always Director Shin and Writer Lee dramas have no complicated issue, no antagonist, it's just every day life of the doctors delivered with warm stories.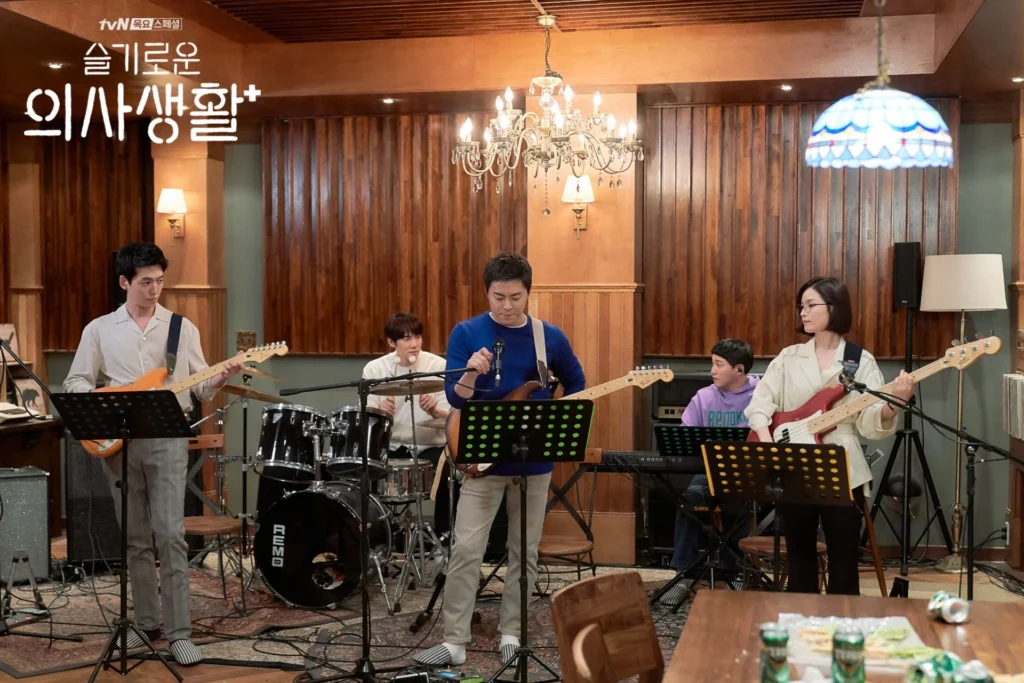 What I highlight and really like in this drama is the five best friends do band practice routine in each episode. They perform popular songs from their era. Whatever the situation is (considering they are busy surgeon and specialist doctors) they always have time to do band practice. Don't think they fake playing instruments, no. As you can see in the behind the scene, the actors did practice a lot to make the scenes real. That's so amazing the casts are doing great not just portraying the characters but also doing band and singing together. They are so total! How can you miss this precious drama.
This is a medical story which in each episode, they show the specific medical treatment and surgery, but of course what makes this drama so warm is how the characters handle their issues including the patients stories that somehow make us sob. Director Shin sucessfully brings out the characters well. Not only the leads but also the supporting actors who are also taking important parts in this drama.
The 99ers, our five leads have their own problems, but I see that they repect each other decision. They always have each other when needed. They are smart and professionals but having their own dork and fun personalities. Very entertaining and relatable. See them doing karaoke when they were still med student and band practice video when Song Hwa sings out of tone.
Let me share about these amazing characters in this drama in my point of view *spoilers*:
Lee Ik Joon – hepatobiliary surgeon (played Jo Jung Suk): Typical a leader. He is a 'professional' matchmaker. Super friendly, easy to socialize, he exists in every ward in the hospital. His wife's cheating and becomes single father with one Son. Woo Joo or we call Uju. Once you see Uju, you'll become a Uju holic lol. Ik Joon is good in everything, of course expertise in his field but also good in singing, dancing, cooking… and of course taking care of his only son. Vocalist and Guitarist of the band. Has 'story' with Song Hwa 🙂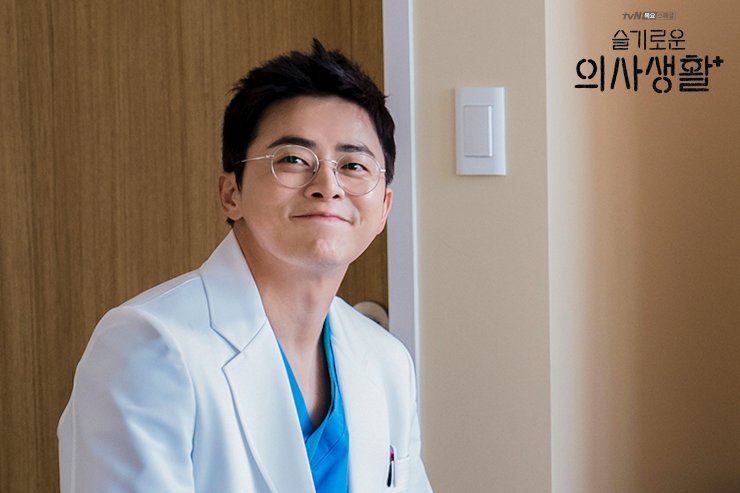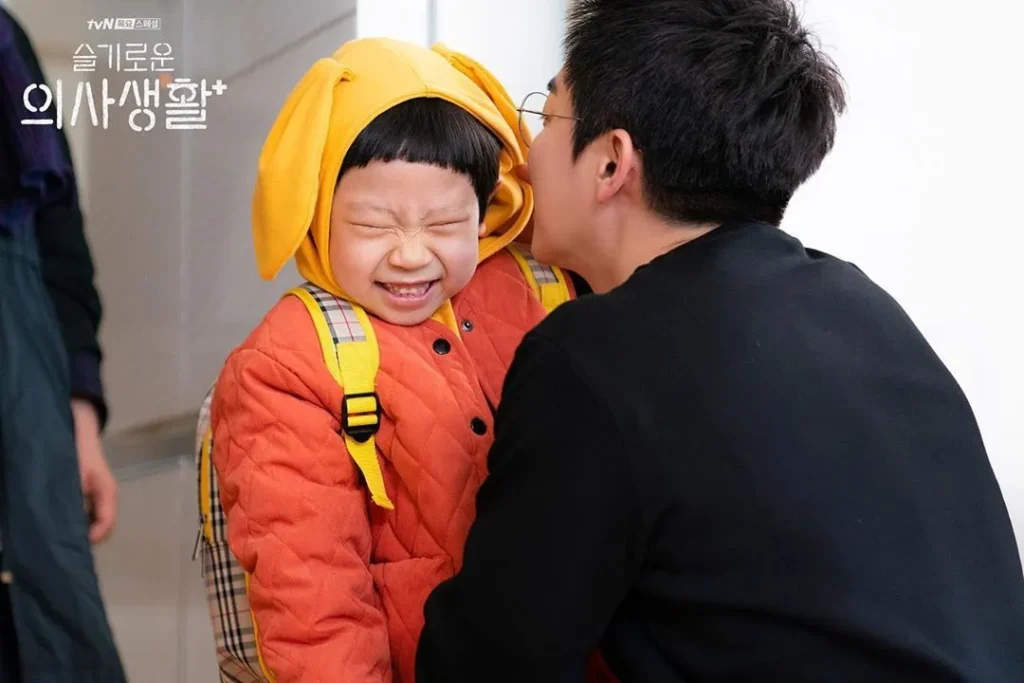 Kim Joon Wan – cardiothoracic surgeon (played by Jung Kyung Ho): Good Looking Doctor and discipline when it comes to his job. He's a good eater too. Dating Ik Joon's sister (without Ik Joon knowing of course, at least until S1 finale). He's the guitarist of the band. Professional look, always clean and tidy. Looks cold outside but soft inside. And a good mentor and leader for his residents/members.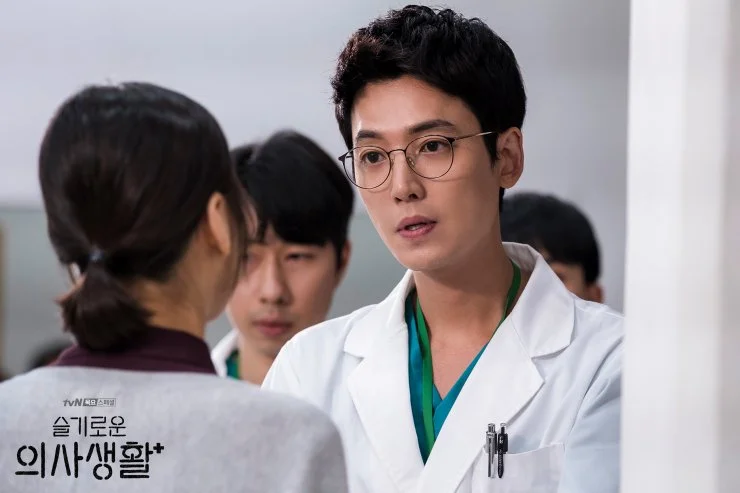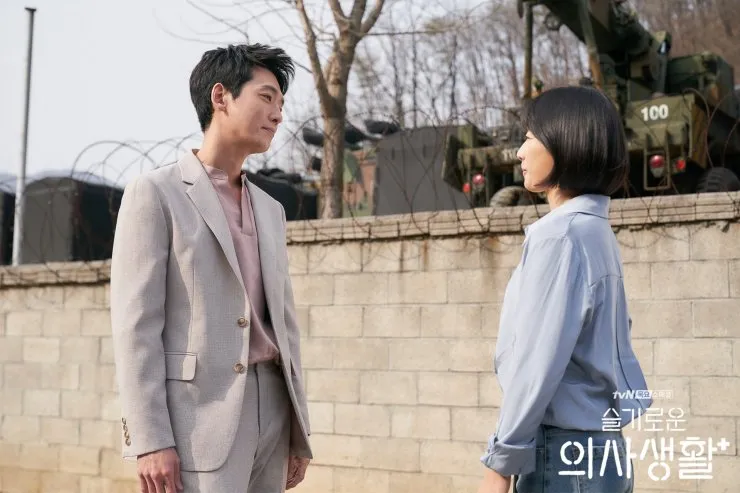 Chae Song Hwa – neurosurgeon (played by Jeon Mi Do): the only girl in the gang. Everyone likes her no doubt. Along with Joon Wan, she is a good eater. Her hobby is camping. Has her own coffee tools in her working room and the massage machine stuff as well because it helps her relax after she has a long surgery. She's a good adviser. She's loyal, has one pair of shoes since she was an intern. Not revealed yet if she has a deep story behind it. She sings too even though sometimes off tone lol… Playing bass guitar in the band. Her bass skill is no joke, don't underestimate her.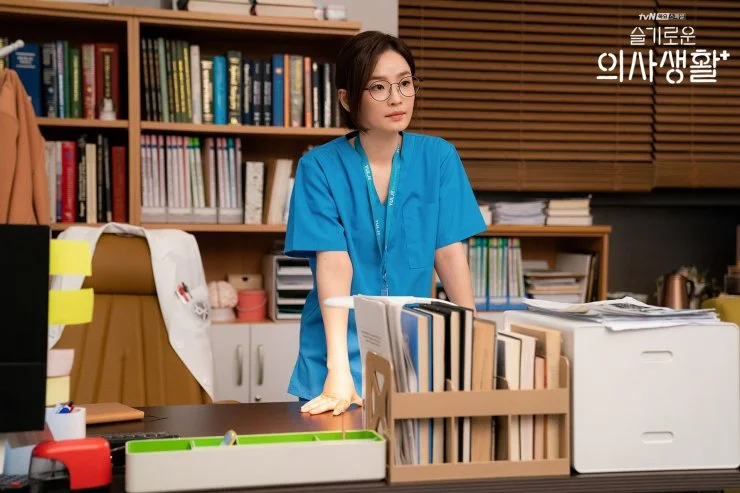 Yang Seong Hyeok – obstetrician and gynecologist (played by Kim Dae Myeong): A popular gynecologist. Divorced. Charming. Close to her mom. His rich father is having an affair. He likes it when he's alone. Not interested in dating again. He's the keyboardist. His house is where the 99ers doing band practice. He liked Song Hwa when they were in Uni (rejected) and remain as best friends.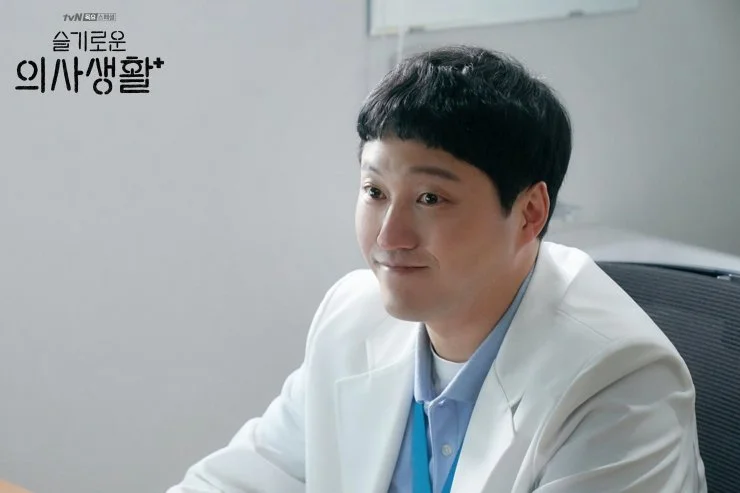 Ahn Jeong Won – paediatric surgeon (played by Yoo Yeon Seok): Really wants to become a priest. He's in love with God. He's applying to become a priest and plan to resign being a doctor soon end of year. A generous person, (not)secretly being a daddy long legs in the hospital. Really loves kids. After successfully saves patients his eyes shining. When he fails, he can cry all night, feeling down for being a doctor and drunk. He's the drummer.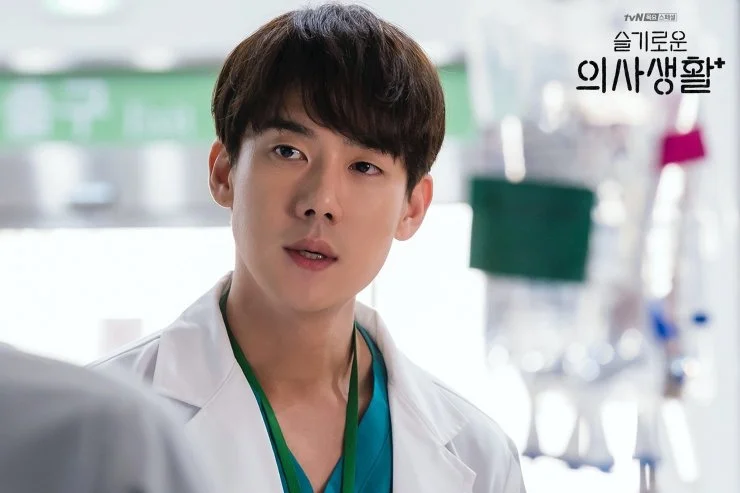 There are some love stories here too. Not the main focus of the drama but the sparks move my heart. Some ships are sailing, some are still unknown 🙂 *season 2 pls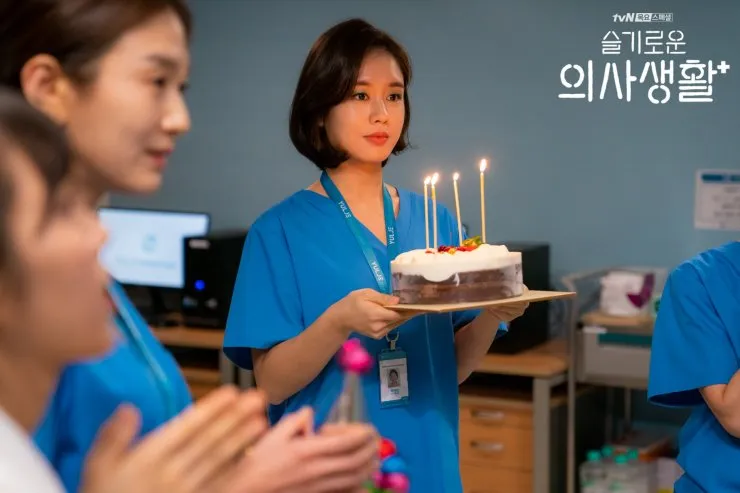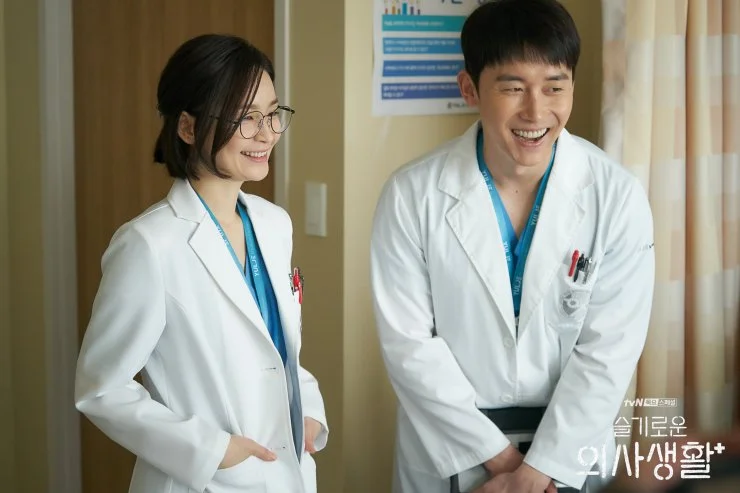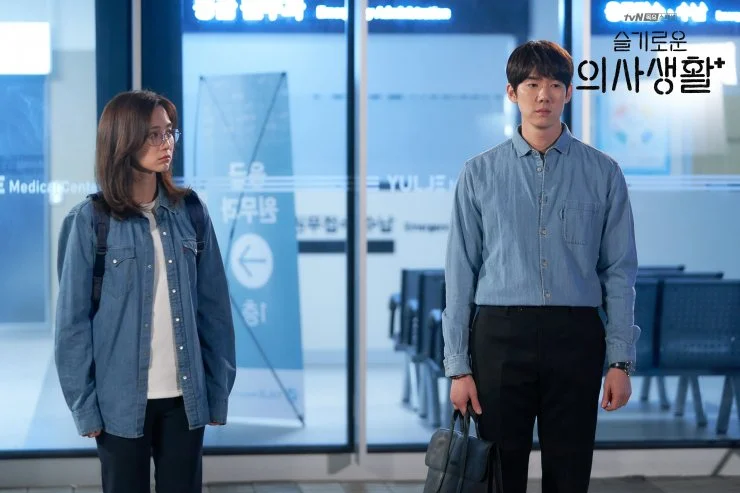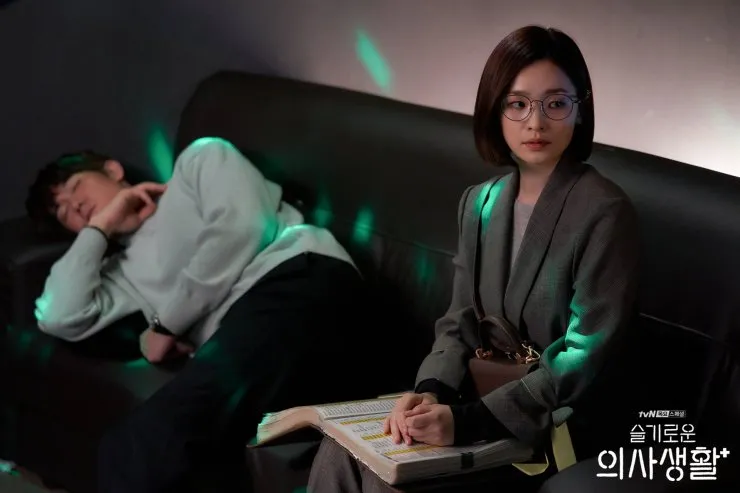 Hospital Playlist is such a happiness for me. Same with Prison Playbook and Reply 1988, it's like a healing drama. Another masterpiece that has its charm. About friendship and humanity. Like a roller coaster, Director Shin really can makes us laugh happily then cry hard with some touching and warm scenes.
One scene I can still remember from the last episode, that I cried really hard was when an intern at Yulje Hospital whose mom died under Song Hwa's treat when she was a resident. The intern, Yun Bok was moved and motivated by Song Hwa that time, and 10 years later she meets Song Hwa who turns into good doctor and being her mentor. When she cries, she says no word, only cries but it's really touching and heartwarming, I can't stop cry.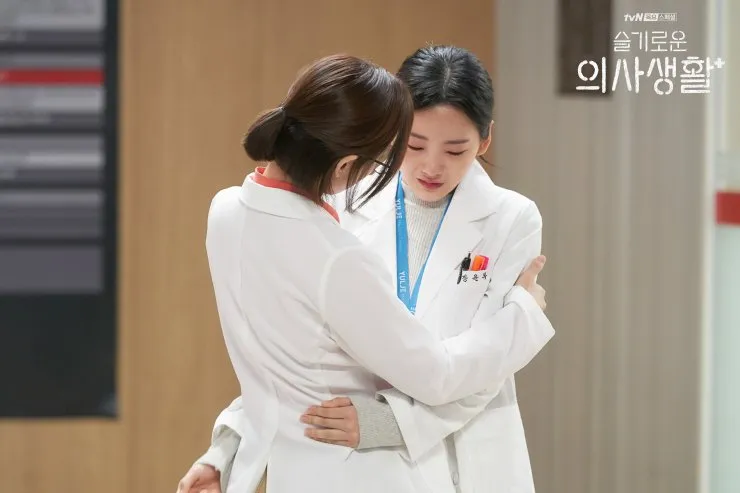 Not only they value friendship, how these doctors lead their team is something we can learn. I see leadership, how Joon Wan manages and protects his chief resident Jae Hak, Song Hwa leads her residents well and how Seok Hyeong treats his team.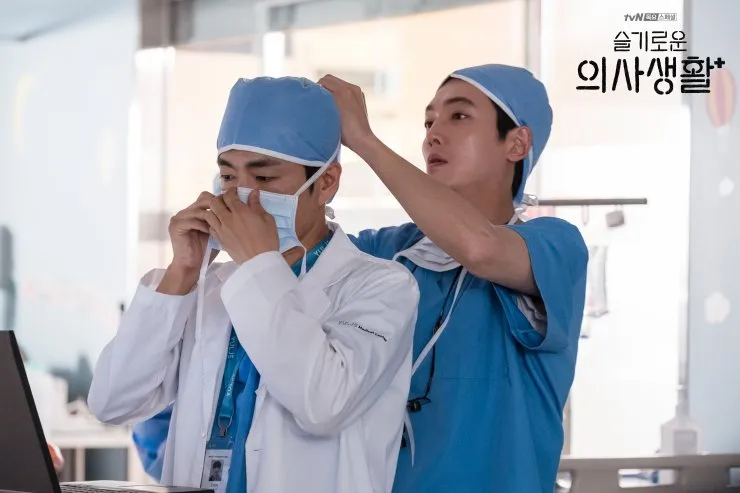 This is absolutely obvious that this show is very well prepared, directed, acted and of course well written. They have 12 parts of OST which played live band by the 99ers in each episode. The casts were learning a lot and practicing before filming. They are trained by professional coaches.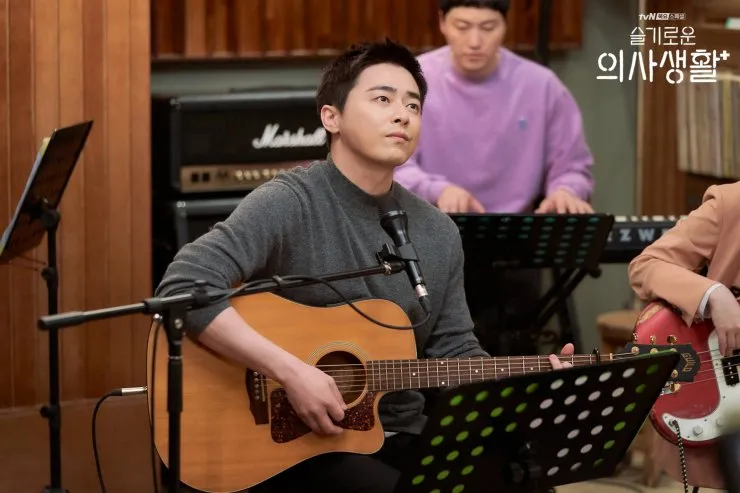 The five of them have their own specific characters and developed well. I see as one of the strong points, we can feel attached to their characters.
I remember Song Hwa said to Jeong Won in the last episode when he's doubt about his decision to go being a priest: There are three types of poeple in the world.
Those who are happiest when they are eating something good: Junwan, Ikjun (hahaha)
Those who enjoy food the most when they are eating alone: Seok Hyeong
Those when seeing others enjoy good food makes them happier then the one who eats: Jeong Won
That pretty much sums up the characters implicitely…
One thing still a mystery is about how Song Hwa feels about Ik Joon since Ik Joon finally confesses his feeling to Song Hwa in the final episode, that makes my heart so soft. Considering they're best friends and I believe Ik Joon really be careful for this confession. Huhu hope for the best for them for sure.
"I have a friend whom I've known for a long time but I started to like her. If I tell her how I feel, things might get a little awkward but if I chicken out again and not tell her, I'll regret it for the rest of my life"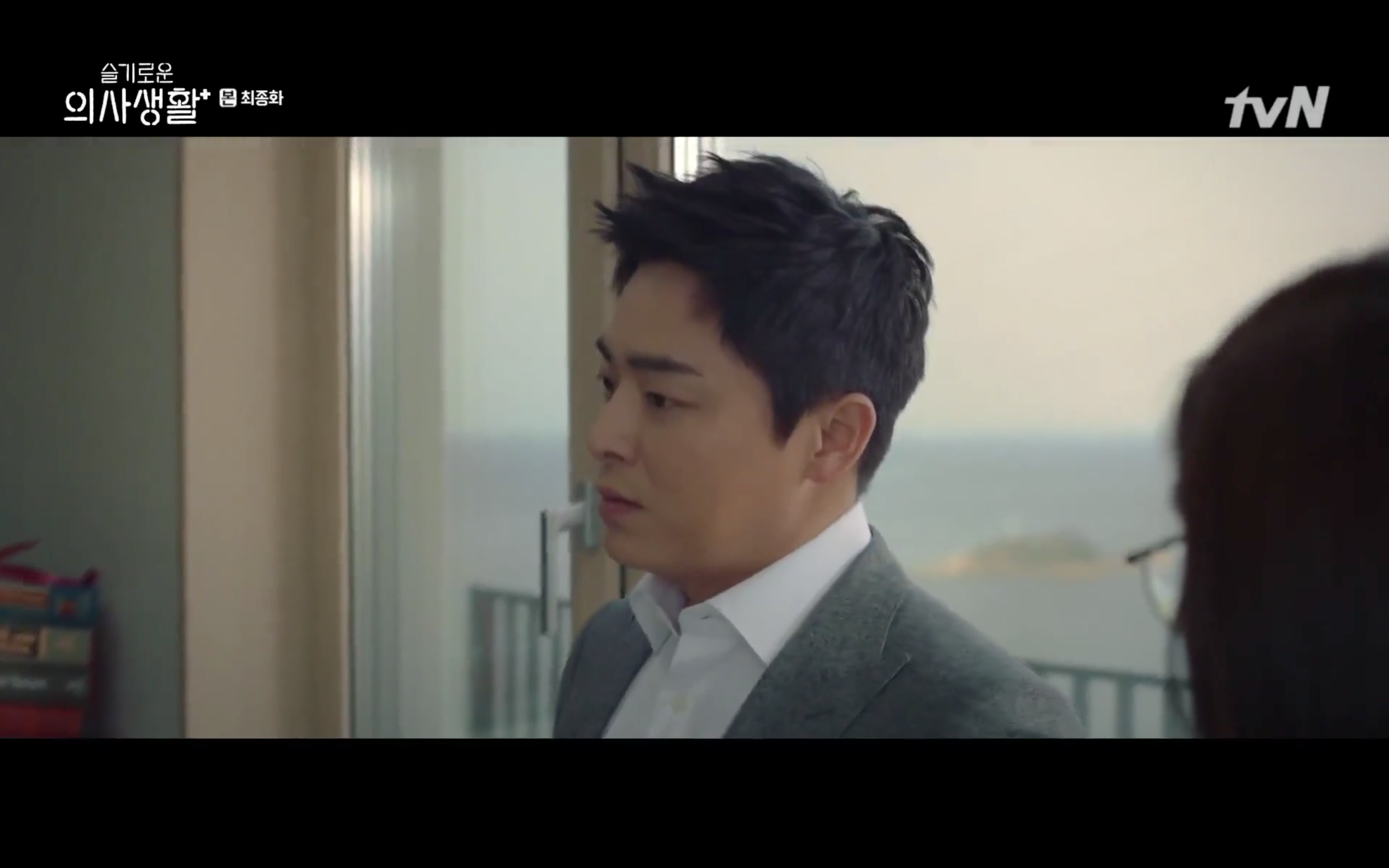 Now Season 1 has ended, there's still some of the puzzles haven't completed yet. Director and Writer really know how to make us can't wait for 2021 for the season 2. They even release the sweet famous song Me To You, You To Me from The Classic OST (2003) sung by the leads with the name Mido and Falasol. That's a nice song performed in the finale ep. How to move on!
HOSPITAL PLAYLIST OST is now available on Spotify and iTunes!
Streaming on netflix
Photos: hancinema || Teaser Video: The Swoon