I am so grateful for having experience attending Come Together concert live in Singapore, last week, 13 Feb 2016 at Singapore Indoor Stadium. I talked to myself earlier, if they have stop in Singapore I must come. Yeah and it came true, I am a happy fangirl.
With my BOICE friends, we experienced the joyful of being a fangirl, met some BOICE from around the world, made friends, and the most important thing is 'enjoy the concert'. This time Amel and I, we both made a small project to share free giveaways for BOICE who came to concert. We collected donations and used walkontheside's fanart to make notebook and fan, and we also printed some photocards.
Never expected that the response were sooooo good and our free giveaways were just out of stock in minutes. So overwhelmed. Thanks a lot to walkontheside for such a cute fanart and hope BOICE will like them. Next time we will prepare well so we make make a lot stuffs for BOICE. Yup actually we didn't have much time to prepare, and it's such a sudden idea. But thank God it went well.
I didn't have a chance to write FA. I also didn't have a chance to take photos at the concert because of the rule: no photography, no videography. Even tho some fans were so pro, they can take some photos with their skill. Hehehe. I want to be like them… After the encore, the security finally let us take video and photo, so I could record some.
The concert was so amazing as usual. I can jump, sing along and put my hands up playing with my light stick. What I like from Come Together Concert is the setlist. Usually we can only see they perform Japan songs on Japan Concert. But now we can listen to Irony, Stay Sober, Realize and Holiday as well on Korean Album Tour.
CNBLUE again proved that they can show us their maturity in music, their sound and soul, and all of them especially Yonghwa is really such good entertainer. I appreciate they learn English, Singlish, and even local dialect, 'kamsia…' kekeke so that they can communicate to us as audience. We can feel the beat, the vibes.
Jungshin said he bought ring in Orchard. Minhyuk also asked 'Are u guys single? Spend your valentine's day with parents.' Ah cute. Jonghyun had some troubles with his guitar's strings but he's back, so professional rocker John. He's so cool. Yonghwa was so active on stage, ran and jumped every where on stage. Somehow I was afraid he would fall. But that's Yonghwa. Even Singapore media, The Strait Times wrote 'He's an Energiser Bunny' as the title of the article about the concert 🙂
Last but not least. I really enjoy the concert. So Much. Never feel enough watching their concert. Want more and more. CNBLUE rock on.
PS. Thanks a lot to Amelzing87 and my concert buddies: Mba Ochang, Dian, Amel, Dee, Aiy; BOICE who sent us so many gifts I can't mention one by one; and Of course lots of thanks to donators who support our small projects.
Check out the official photos by One Production via One TV Asia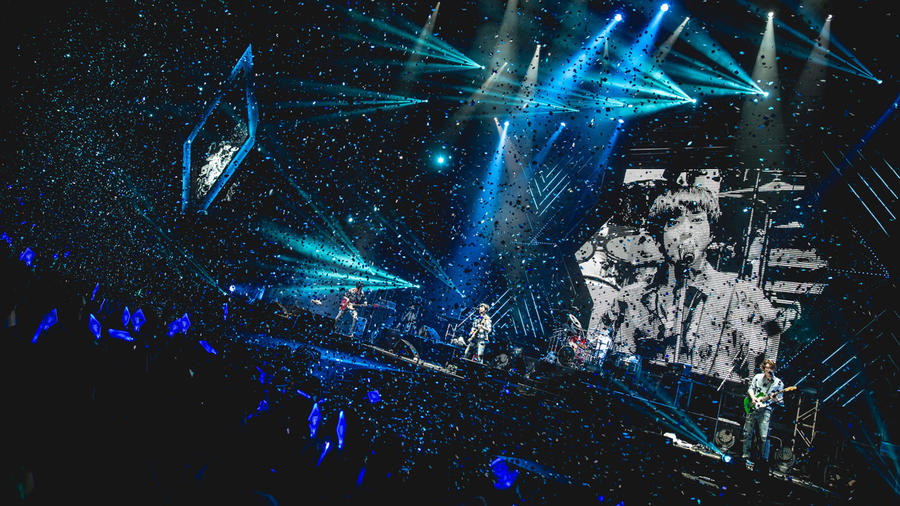 Setlist:
1. Domino
2. Hide & Seek
3. I'm a Loner
4. Can't Stop
5. Footsteps
6. Love
7. Roller Coaster
8. Coffee Shop
9. I'm Sorry
10. Lady
11. Hero
12. IRONY
13. Stay Sober
14. Realize
15. Holiday
16. Catch Me
17. Cinderella
18. Radio
Encore
19. Try Again, Smile Again
20. Love Light
21. Hold my hand