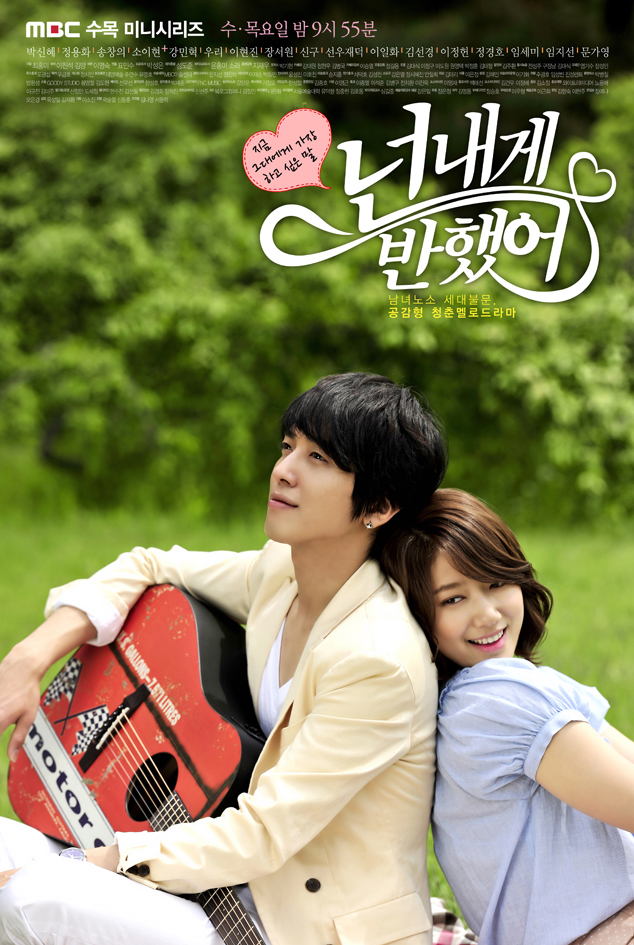 Heartstrings, also known as You've Fallen For Me. An MBC melodrama starring CNBLUE's Jung Yong Hwa and Park Shin Hye, already finished. They only aired 15 episodes since the cast, Shin Hye got an accident during the shooting time. This is my highly anticipated drama, since the star is my fave idol, Jung Yong Hwa. I was just too curious to see Yong's acting in his second drama, after You're Beautiful.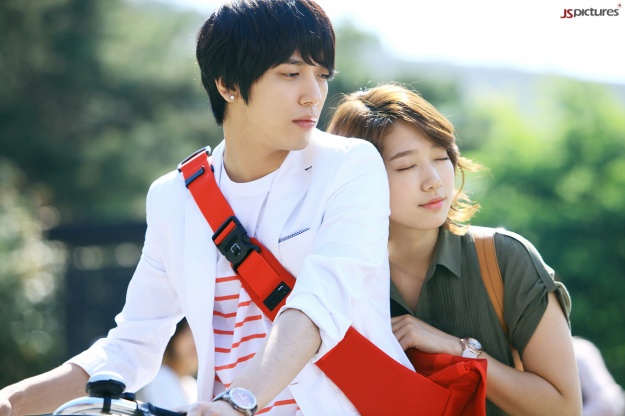 Lee Shin (Jung Yong Hwa) is a university student majoring in modern music. He is also the vocalist and guitarist of the band "The Stupid." Shin is known for his good looks and strong passion for music, but in reality he is cold, lacks interest in anything unrelated to music and has neither dreams nor plans for the future. He initially likes Jung Yoon Soo (So Yi Hyun), a dance professor at university, but this all changes when he meets Lee Kyu Won.
Lee Kyu Won (Park Shin Hye) is a bright and outgoing student who was born into a prestigious family and is majoring in traditional Korean instruments, especially the gayageum. Kyu Won's grandfather, Lee Dong Gun, is one of the top 3 traditional musicians of his age and his biggest wish is to see his granddaughter become a traditional music prodigy. Trying to live up to her grandfather's expectations, Kyu Won immerses herself in training and becomes a university student who knows nothing outside of her studies. As her friends are fans of "The Stupid", she was forced to go to the band's concert with them. There she saw Lee Shin performing live, and is immediately captivated by him (source: DramaWiki).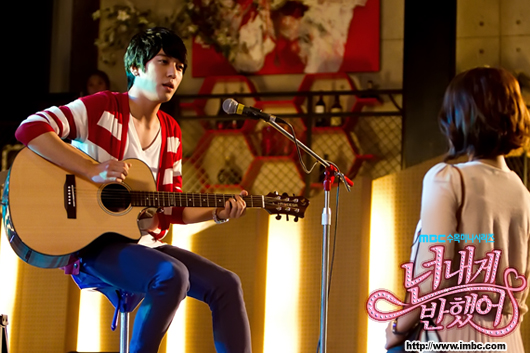 Even though I am a huge fan of Yong Hwa and CNBLUE, I also have like and dislike points of the drama. Heard that this drama got low ratings. But in my opinion, the drama is good, the story is showing coming of age issues. It has good director, even though if I am not mistaken in the middle of the episodes the script writer changed. And I believe the viewers also loyal to the drama.
But let me share my opinion. No hard feeling guys. Maybe we can start with the dislike parts.
The Kiss. Guys I'm not jealous lol. But in my opinion hehe. Yonghwa and Shin Hye on the kissing part a bit awkward, maybe because they're friends, so it hard to do such things. But the chemistry looks good because they have acted before.
The plot of the drama. I think it's too slow. And in the beginning made me bored. But slowly after some episodes, they started to steal viewer's heart. But, if I can share what I'm thinking right now, I hope they can remove the part Lee Shin likes his professor 🙁
But we can't only see the bad parts, there are some good parts I think I can share now:
The theme. I love this kind of drama. Romance. And not just that, it shown music and dreams of young people. It's kind of realistic.
The stars. Yonghwa -Shinhye is the best couple. They are popular now and have great chemistry. Yonghwa has really worked hard to build the good characters. He tried his best, change the image (he looks thinner) and acting skill improved even though maybe he has to learn more to get experience. Shinhye moves my heart when she sings I will Forget You by the CNBLUE in the drama. I knew it, she's good in singing and dancing.
The setting. I love the environment, Art University, the park, the green color dominated the drama. Love the fashion and the simplicity.
The soundtrack. Yeah yeah. No doubt about it. Yonghwa composed some songs, there's FT Island also, and many mores. I love the song with the collaboration between Modern instrument and Korean traditional ones. Grab to your iPod playlist. You're gonna love it.
Last but not least, The romance. I love the parts when Lee Shin at first ignore Kyu won, but finally fall for her, like tsundere character, tho it's typical Kdrama, but still… he tries to protect her, and let her achieves her dream.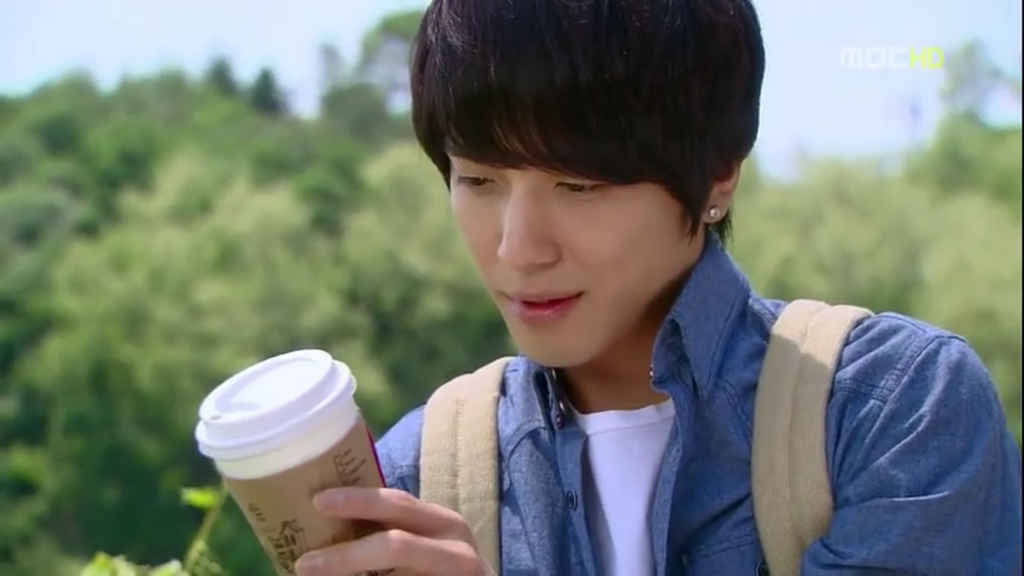 CNBLUE's Kang Minhyuk also plays here. His acting is so cute, supporting role. But it's kind of not-forgotten cos he gives color into this drama too. So, I am still anticipating Minhyuk actor in the next drama/movie.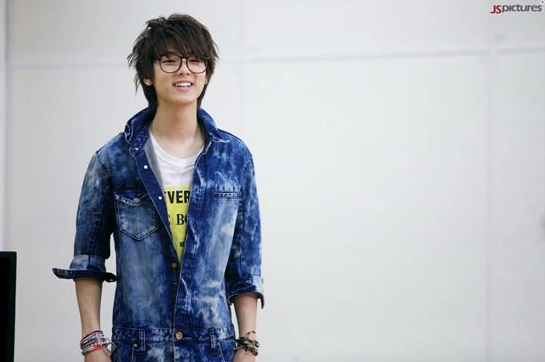 Watch on VIKI | Netflix Korea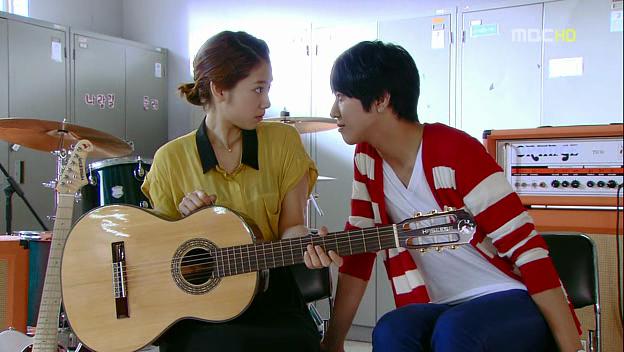 Since this drama can be categorized as romance and musical, it surely has nice OST and background musics. Of course Yonghwa takes some part in the OST. The popular ones are the beautiful Because I Miss You and You've Fallen For Me.
Photo Credits & Reference: JS Picture, IMBC, dramaWiki. Yonghwa Photos captured by me.