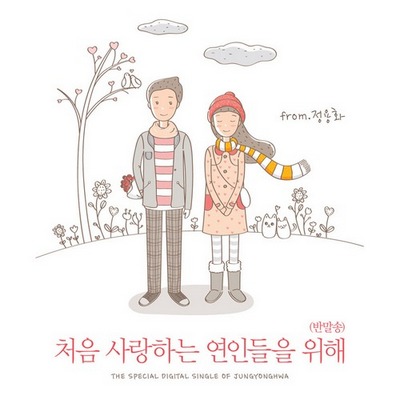 CNBLUE's Jung Yonghwa just released his first digital solo today inspired by his on screen 'wife' SNSD's Seohyun on a variety show We Got Married. The song called For First-Time Lovers (Subtitled: Banmal Song). It's because Seohyun can't speak banmal/drop honorifics to him even tho they are already close.
I really love this easy-listening song. Very catchy. Yonghwa is such a genius. It's a sweet track that you can listen to anytime. Since I follow the Variety Show where Yonghwa and Seohyun are the couple, I think I can feel the emotion from the voice and the lyrics.
Too add the information about this song:
The song was released as a single on January 14, 2011 and upon its release, topped various South Korean music charts such as Bugs, Daum, Soribada and Naver Music. The song debuted at #12 on the Gaon Singles Chart, climbing up to the #1 spot in the following week and stayed there for two consecutive weeks. Source: wikipedia
Please support Yonghwa by streaming the song on Spotify and purchasing the song on iTunes.
Before released this song, Yonghwa and Seohyun also made a couple song together then uploaded their video made by themselves while filming WGM on Youtube. It has received over two million views since it was uploaded. (original video they uploaded has been deleted by MBC). Here's fan made with engsubs.