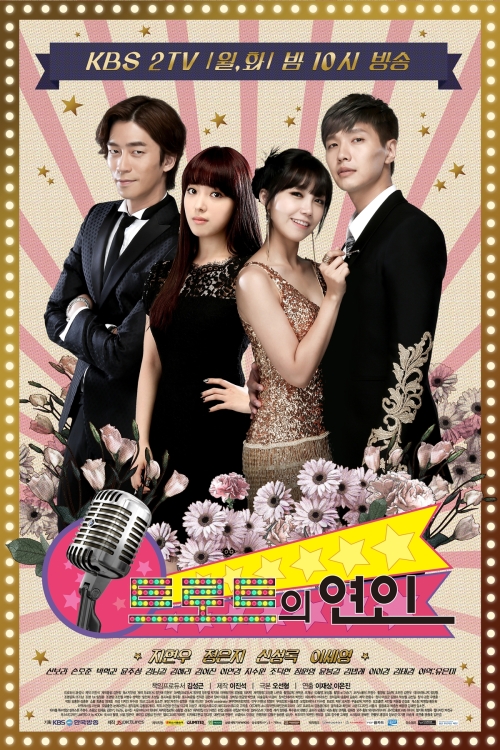 Actually I watched Trot Lovers bcos of recommendations of some friends on Twitter. They say this drama is good. So I tried watching. Actually at first I don't know what Trot is. So I google and found out from wikipedia: Trot, (Korean 트로트 teuroteu; sometimes called 뽕짝 ppongjjak due to its distinctive background rhythm), is a genre of Korean pop music, and is recognized as the oldest form of Korean pop music. Formulated during the Japanese rule in the early 1900s, the genre has been influenced by Japanese, Western and Korean musical elements.
So Trot is an old fashion music genre. Well, I am not familiar. I only know CNBLUE music, a lil SNSD, IU and some from OST. Thanks to this drama, I know about Trot and enjoy it a little.
Drama about music has it's own style and for me the cast must be able to sing well. Eunji for me did a good job. She sings very well. I am impressed by her good vocal. I don't know trot but I think I got the feels when I watched Eunji sings the Trot songs. Hyun Woo is also playing very good. I like the emotions between two. But to be honest I dont like his hair color in this drama hahaha (too personal…) but absolutely love the acting. Their chemistry is good too.
One thing in my mind when I watched this drama is probably that's why Idols prefer to hide and keep their relationship in order to protect each other. For the sake of everyone's working for them, for their career as well. From this drama we can also learn how to build career as an artist with all the obstacles.
How the writers tell the story is good, I like, but the ending is too fast, I mean like the writers rush the ending. Hahaha at least add one more ep. It's my opinion only. I really want to see more romance between Choon Hee (Eunji) and Joon Hyun (Hyun Woo). Maybe bcos I expected something more romantic and surprises. But I like the drama for sure. Fun to watch. Especially for you who love music, you must watch the drama. Thought it's underrated, but please watch this too…
Another reason why I watch this drama is Eunji. I like her acting since Reply 1997. She has great voice and acts very well too ^^ (cre: hancinema)