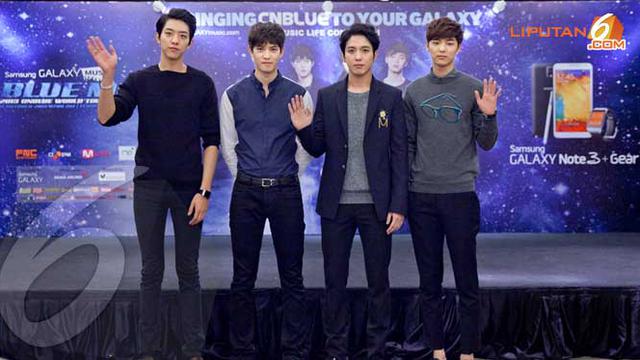 Unspeakable Joy. Finally, long wait is over, Indonesian BOICEs. The boys are coming 😀 2013 CNBLUE BLUE MOON World Tour Live in Jakarta. That's a dream come true. Not only me but also all Indonesian BOICE must be so happy. The concert was held on 19th Oct 2013 at Tennis Indoor Senayan. The Venue is not too big, so we can see the boys closely.  I can say for sure the show was soooo amazing.
The tickets were sold out, yeah. Started at 7pm with rock ambiance, filled with the blue light sticks. BOICEs screamed out loud watching the boys perform their songs. Yonghwa was so awesome with the full fanservice, Yong yong even showed off his baskerball skills at the stage with the ball from a fan. Jonghyun was so cool busy with the guitar and sometimes spread smiles staring at the audience. Minhyuk spoke Bahasa Indonesia alot this time, and the funny Jungshin Chingu was also talkative as usual. And yes, they really worked hard to talk with us in Bahasa Indonesia, and that was good. They speak Bahasa very well.
What makes me happy is that Indonesian BOICEs enjoyed singing along with the boys even in Korean Language. We just don't care about the pronunciation, but we sang happily together with the CNBLUE. Fan project was also a success. While singing Love Light, silver stars filled the venue. Love it so much. Indonesian BOICEs are so amazing.
For the concert in Jakarta, CNBLUE also prepared special gifts to Indonesian BOICEs, they are sorry about the cancellation concert 2 years ago. It's CNBLUE postcards. We surely love it, boys.
Thanks a lot to the W Productions and MP Entertainment that give us a chance to watch them in our country, FNC Entertainment and Samsung Galaxy for the world tour. It's a successful concert. I really had so much fun, enjoyed the concert and they are really awesomely awesome. Please keep your promise, Yonghwa, that you and boys will be coming again next time. Aamiin.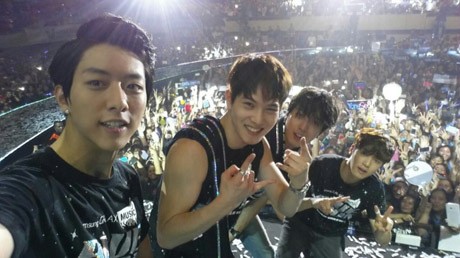 CNBLUE, thanks for the memorable concert 😀
PS. I didnt have chance to take more pictures because of the strict security team at the concert, but the most friendly compared to the other K-pop concerts I have ever had.
Some pics from the concert. Enjoy.
*update*
Just found the best fancam from BMJKT. It's Love Light, the best part from BMJKT, Indonesian BOICEs were singing the song so loud 😀 I also love it when the project was a success. 🙂