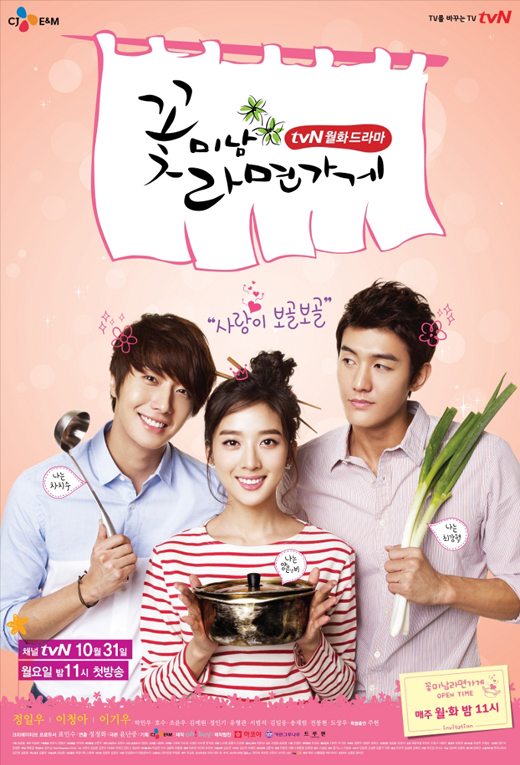 Here it is, another recommended light romcom K-drama. Flower Boy Ramyeon Shop. This was broadcasted by tvN. 16 Episodes.
Yang Eun Bi (Lee Chung Ah) is a University student preparing for her civil service exam with the dream of being a high school teacher. She accidentally encounters Cha Chi Soo (Jung Il Woo), an arrogant son of the biggest food conglomerate in Korea. Both of them end up working at a ramyeon shop run by the lazy Choi Kang Hyuk (Lee Ki Woo). This drama deals with "pretty boys", who with good looks and individuality, operate a ramen shop with lively college girls and experience the happenings of daily life (source: asianwiki, hancinema)
The drama is worth to watch. This is, I think the typically drama by tvN. Simple but deep meaning. I love the character of Eun Bi, who is really funny and cool as well.
The center of attention is absolutely the flower boy Jung Il Woo. His cool-arrogant-acting makes us smile. I watched him on the last drama, 49 days. He's awesome there, but now playing in different character. Tough I think he's too mature to be a High School student here. Hihihi.
But anyway, the story about this 'ramyeon' is kind of different. You cant guess the end of the drama, and you cant find sad-drama story here. Lots of funny scenes here. Love triangle between Eun Bi, Chi Soo, and Kang Hyuk. Family issues and Friendships are there too. So, hope you'll like it too guys. An entertaining drama.
Streaming on VIKI
*update teaser: