Long wait is over. Jung Yong Hwa is back. He's just released his 1st mini album on 19th of July with the title track That Girl (feat Loco). This song is so cheerful and really catchy. Some people said he looks like Korean Bruno Mars in the music video, but probably he has his own powerful sweet style voice that no one has. When he sings, we know it's Jung Yong Hwa.
As fan, I am so proud of him. He's worked hard for this album, he tries several kinds of genre to make this album special. He's Jung Yong Hwa who produces his own songs and really up-to-dates with nowadays kind of music. You can say he puts some kind of electronic music and pop dance into this album which maybe we rarely find in CNBLUE's albums. Let's have a look at the set list.
That Girl (feat. Loco): Actually at first I didn't know why Yonghwa made this as the title song while maybe there is other nice upbeat songs or catchy ballad ones in the album. But then I realized this song has nice music, I mean the genre is so happening and catchy lyrics makes us amaze. He also said on V live that this songs is made with the collaboration of him and producers from LA. So this song is made with more efforts. I like how Yonghwa tries to break the rule by release this song which is far from our or maybe Korean people's expectation. It's not mainstream that makes this song is so refreshing. You can see Yonghwa dance in the MV and music show performance.

Closer

: My favorite in the album since the first I heard the teaser. Yonghwa said this song is kind of genre he is good at writing. I love the pop sound in this album. I cannot not dance while listening to this song. It reminds me of Bee Gees pop group from Australia, the oldies band my dad's fave haha. It is obvious that Yonghwa brings out classic pop dance into this song which is loveable. His high notes is amazing. I hope he will compose this kind of genre again in the future. Yong please 🙂
Password: And yes, another electronic pop dance again. I love Yonghwa tried many genres without lost his own style.

Navigation

: I believe this song has good message behind it. Yonghwa said once in the V live, if I'm not mistaken it is like 'Do something not because of others but because of yourself. In the end it's you.'

Not Anymore

: This is so classic. I feel like this song is suitable for Reply 1988 series. I like it.
Lost in Time: Everyone's favorite too. Pop ballad song that is so beautiful. Catchy lyrics. Yonghwa also performed this song with big piano at the Music Shows. Why I feel like this song is kind of special for him. Don't really understand the lyrics but his voice really so emotional and makes me attached.
Music Video:
First word come out from my mouth is: wow yonghwa dance! Haha. yes we fans know he is dancing king especially bcos he is the vocalist of a band who doesn't dance on stage. But in this video he is not awkward. Well what he can't do. He works hard to make people not notice he is not a dancer. This kind of Music Video maybe is not my favorite but I am maybe biased cos I think he nailed it. This video is so different from his previous solo MV and so refreshing. Plus related to the song's lyrics.
Support Jung Yong Hwa's 1st Mini Album DO DISTURB by purchasing the original CD and streaming/downloading the digital album on Melon / Apple Music-iTunes / Spotify. For CD, there are two versions, normal (fist pic on the top of this article) & special version (below pic). Special version cover is designed by Jung Yong Hwa himself, inspired by Do Not Disturb tag in the hotel room 😀 See, told ya, what he can't do. He is a Yong artist too 🙂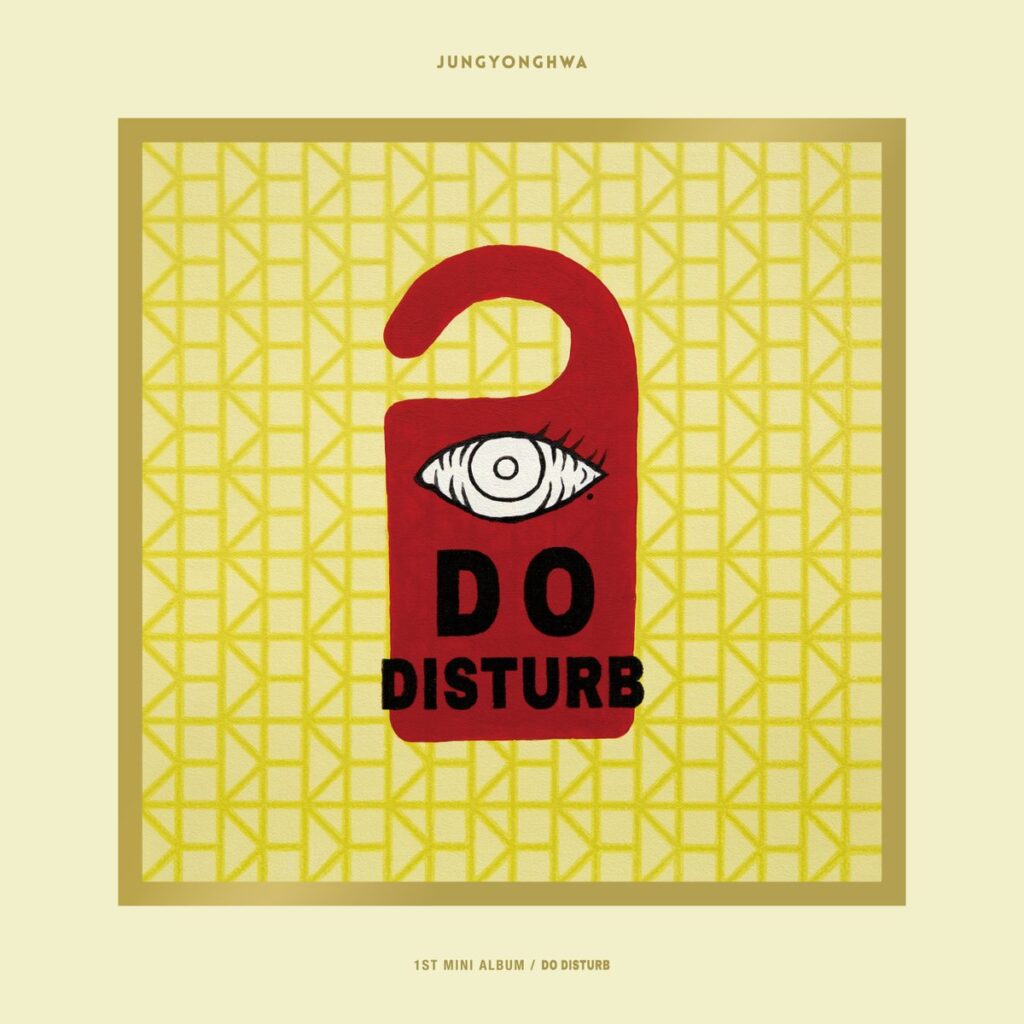 After listening to the full album I would say Thank You Yonghwa and Good Job. This album is awesome. He's not an ordinary artist, he is a special musician for me. A gem. I hope he continues to make good music. Stay YONG forever.
Photobook from DO DISTURB Album