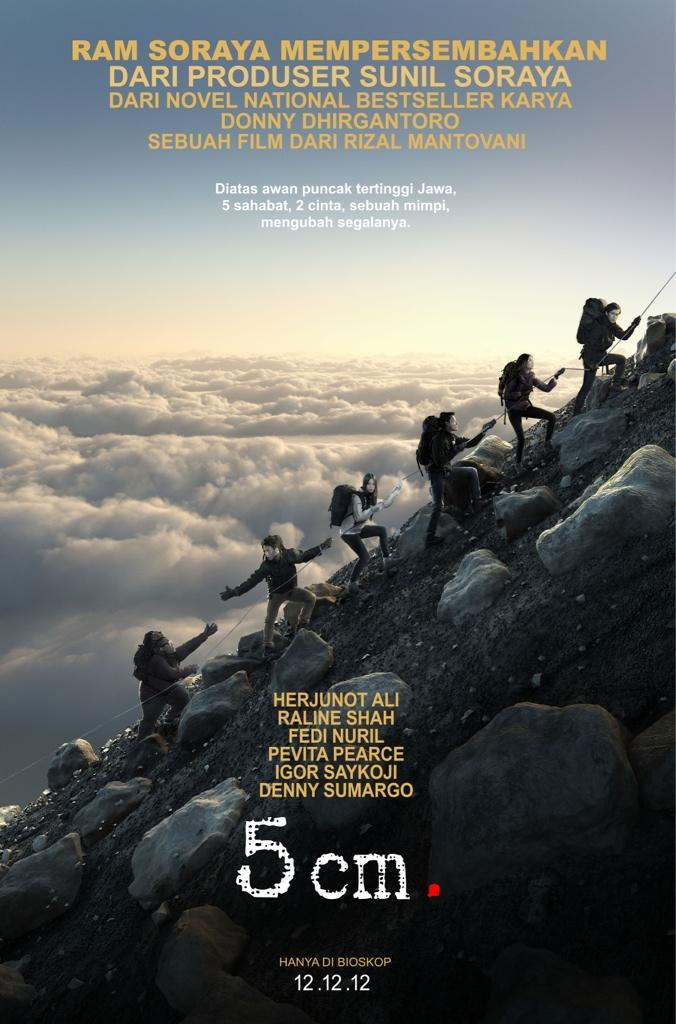 A must watch movie. Begitu tweet pertamaku setelah menonton film ini. Film yang bagus. Keren. Pemainnya berkualitas dan visualisasi yang indah. Rizal Mantovani, as the director really did a great job. 2 kali nangis. Hebat. Haha. Anything related to family and friends makes me cry. Apalagi cerita yang touchy seperti ini.
Banyak yang bisa didapat setelah menonton film ini: cinta, persahabatan, cita-cita, dan tentunya rasa kecintaan terhadap tanah air dan ciptaan Allah SWT.
Overall story-nya solid, ending juga kuat. Acting dan Directing keren.
Film "5 cm" bercerita tentang persahabatan Arial (Denny Sumargo), Genta (Fedi Nuril), Zafran (Herjunot Ali), Ian (Igor Saykoji), Riani (Raline Shah), dan Arinda, adik Arial (Pevita Pearce). Mereka adalah anak muda yang memiliki semangat dan cita-cita tinggi sekaligus jiwa nasionalisme yang tidak pudar. Dengan tekad ingin mengikuti upacara bendera di puncak tertinggi di tanah Jawa, kelima sahabat ini berpetualang mendaki gunung Semeru. Siapa sangka, pendakian tersebut justru mengubah segalanya, persahabatan dan kehidupan mereka masing-masing. (Source: Bandung Review)
Diadaptasi dari sebuah novel dengan judul yang sama karya Donny Dhirgantoro, film ini sukses. Karena tanpa membaca novelnya pun penonton akan mengerti alur ceritanya. Dan sebagai yang pernah membaca (walau agak lupa-lupa.. jaman masih kuliah…) sepertinya tidak jauh dari akar cerita di novelnya. Endingnya juga bagus dan sesuai keinginan hati. Ohya, Film yang baik tentunya harus didukung dengan soundtrack yang juga bagus, Nidji makes it more cool and powerful.
Go enjoy the movie with your besties 😀 Tayang mulai 12-12-12.
Watch this movie on netflix
Source: imdb.com, Jakarta Venue, Bandung Review