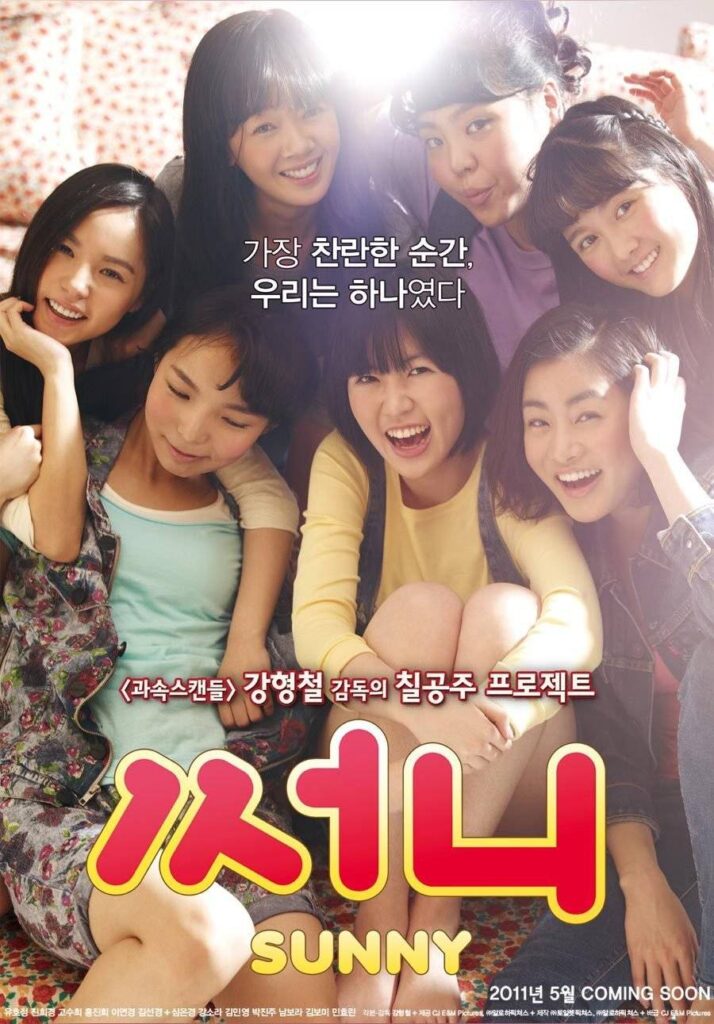 Na-mi is the new girl at school who just moved from the countryside. Whenever she's nervous she can't control her accent and one day one she is laughed at by the school bullies. Just then, a group of girls jump in to help. They are Chun-hwa, the most righteous girl in Jindeok Girl's High, unattractive Jang-mi who is obsessed with big eyes, Jin-hee the cursing queen, literature-loving girl Geum-ok and her monstrous powers, peculiar Bok-hee, who dreams of winning the beauty pageant, and cold, arrogant Suji. Na-mi joins them to form group 'SUNNY', promising each other they will stay together forever.
But a sudden accident tears them apart. 25 years later, married and living with a fine husband and a beautiful daughter, Na-mi still feels something lacks from her life. One day, she runs into Chun-hwa and feeling joy from the encounter she decides to find other members of SUNNY too. Stepping out of everyday life devoted to her family, Na-mi begins her search of friends from the past, and remembering the dazzling friendship of the time she finds herself at the happiest moment of her life. (source: hancinema)
Just watched it yesterday, and really want to watch it again. Though the plot a little bit 'absurd', we can still understand the fast changes between the 'past' and the 'present situation.
It's just sweet how the present-Na-mi (Yoo Ho Jung) finally can find her Sunny-friends. I also love it when Na-mi meets her first love and gives him the gift that she wanted to give in the past. What a great story. The love story, the friendship, feels like we all have felt before. It's all relatable.
You can find about the reality that nothing's perfect in this world. You will never know what you are going to be in the future. And… bullying really happens. But true friends will always be there whatever happens, and whatever kind of situation your are in now. It also reminds me of my friends. Huhuhu. This kind of movie can make me cry.
I rarely post about K-movie, but now, I can recommend you for sure to watch this movie. 🙂
Watch it on VIU