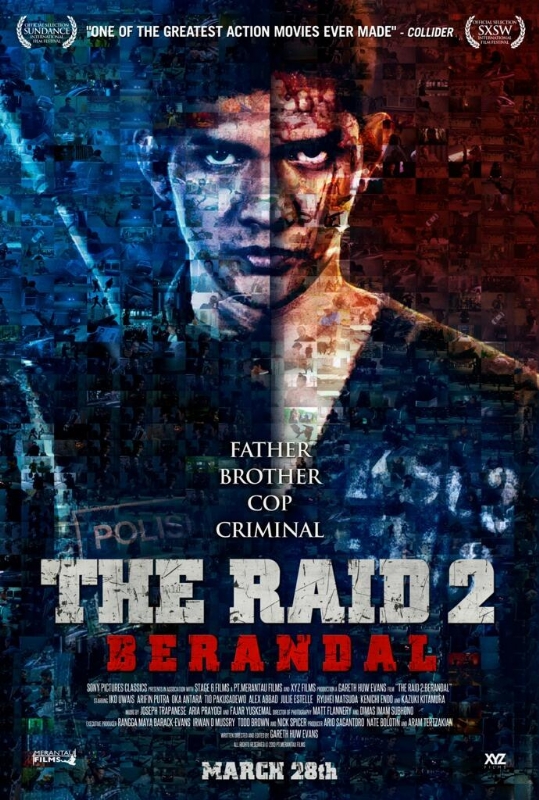 Finally, the sequel to The Raid: Redemption (2012). Before I watched the movie, I already got warned from a friend. 'Uni, yakin mau nonton the Raid 2 di bioskop?' Then, I just answered with 'Why not?'. Now I get it. So many extreme fight scenes, adegan action menggila, and bloody everywhere. You know, I spent almost the whole movie with my eyes closed. lol. But, as predicted, this movie has the best action scenes.
The film was officially rated R for "sequences of strong bloody violence throughout, sexuality, and language". So just don't bring kids to the cinema. Kita aja ngeri nontonnya. Sadis. Hehe.
Favorite actor di sini, ya Iko Uwais, no doubt about it. Acting, action scene semua bagus. Namun, selain Iko, akting Arifin Putra dan Oka Antara patut diacungi jempol.
Compared to the first one, The Raid 2 is more extreme and bolder. Alur ceritanya lebih terasa dan ada sedikit drama. Aku suka Evans masih menunjukkan Iko dengan adegan pencak silatnya, which is very good. Masih terasa style dan kharismatiknya Iko yang menjadi ciri khas The Raid. Ada sedikit komentar miring, mengapa ada snow scenes di Jakarta? Hm… mungkin hanya untuk membuat kesan lebih dramatis.
Well, this movie received positive reviews di dunia Internasional. Apapun pujian dan kritik, good luck to The Raid 2. Everyone who loves Action Movie must-watch this movie.
Trailers (cr. MOVIECLIPS Trailers):
Watch on netflix : The Raid 1 | The Raid 2
Poster/banner: wikipedia